ShareFile provides industry-leading security, auditing capabilities, and compliance controls for safe content sharing, allowing organizations to safeguard data, documents, content, users, and devices with one solution. It can control, authenticate, track, and report on who accesses, views, shares, edits, deletes, downloads, and uploads files based on user location, role, and device criteria. Lost, stolen, or otherwise potentially compromised mobile devices can be locked or wiped remotely, ensuring that proprietary data is not leaked beyond critical borders.
Point. Click. Share. That's how simple it is for employees and customers to securely share work-related files. Users can automatically sync and easily share documents internally and externally on any device.
Access to Files Regardless of Location
Store and manage data in public or private clouds, on premises, or in a hybrid architecture. Access and share documents stored on the corporate network or in the cloud with a single solution.
Document Workflows & Collaboration
Stop endless email chains and save storage space by reducing the number of messages with bulky attachments. Collaborate and gather accurate document feedback, approvals, and electronic signatures with a single solution.
Maximizing Office 365 and Microsoft Cloud
Get more out of your Microsoft Office 365 subscription by using ShareFile to view files stored in Microsoft Azure, Office 365, and SharePoint, and to connect to OneDrive for Business. Integrate with Office apps with the Outlook Plugin for file sharing, and get online co-authoring in Microsoft Word, PowerPoint, and Excel.
Virtualization & Mobility
Use ShareFile with Citrix XenDesktop, XenApp, and XenMobile to enable the secure mobile workspaces and efficient content collaboration employees require to maximize productivity. ShareFile is the only enterprise file sync and share solution optimized for virtual environments.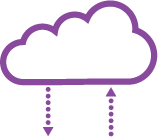 Connect to data in the cloud,
on-premises or both
Mobility has changed the way people work—and it's also changing the way enterprises handle on-premises and cloud data storage. Enterprise mobility hinges on accessibility. People need the ability to access their files from any device, at any given moment. IT admins require customizable on premises, cloud, or hybrid storage options— for flexibility that meets the needs of the business.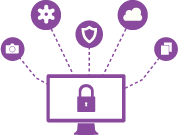 Secure documents, devices, users, and content
Provide the most comprehensive rights management features in the industry—users can apply watermarks, block screenshots and screen sharing, geo-fence content, and automatically protect sensitive data. You can also integrate with popular data loss prevention systems for customer-managed StorageZone deployments to restrict document sharing based on the file's DLP classification and protect intellectual property, prevent data leakage, and facilitate compliance, especially in highly regulated industries like financial services and healthcare.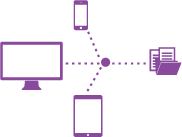 Mobilize existing network shares
and other data repositories
Traditional networks aren't equipped to mobilize data. In order to effectively maintain security, files remain unavailable beyond the corporate network—and users cannot share files remotely. In order to be a truly mobile workforce, businesses need a file sync and sharing solution that provides users with access to their network shares, such as file drives, SharePoint, or OneDrive for Business, from anywhere, without the need to transfer data.
More than 20 million business users and 80,000 customers rely on the robust collaboration capabilities delivered by ShareFile. Meet the mobility and collaboration needs of business users and the data security requirements of the business without interrupting critical daily workflows. Empower employees to work smarter, and help your business achieve agility and flexibility to capitalize on emerging opportunities and stay ahead of the competition. Mobilize data, streamline workflows, and enhance security with Citrix ShareFile.
Article -
Safeguard Protected Healthcare Information
Article -
Five Reasons to Use ShareFile to Balance Mobility Productivity Security
Article -
ShareFile: Feature Matrix
Article -
A Secure, IT-Approved Alternative to Personal File Sharing